 Great Music Deserves a Great Recording
West Virginia's Premiere Recording Studio
Blues Alley Studio is the state's best-equipped professional recording studio. Since 1998, Blues Alley has provided state-of-the-art audio recording, mixing, mastering, and duplication to local, regional, and national musicians. We blend the warmth and feel of an analog interface with the precision and modern amenities of digital recording.
Whether you're a band wanting to produce a full-length album, a singer or solo performer looking for a demo, a voice-over artist, or in need of post-production for a previously-recorded project, Blues Alley Studio has the equipment, facilities, and expertise to deliver a top-notch product that you will be proud of for years to come.
With a wide array of outboard analog and digital effects as well as state-of-the-art effects plugins, we can create the sound that is in your head. We also have an impressive backline of drums, amps, microphones, and accessories to make sure you have the tools you need when inspiration strikes.
We record using the highly acclaimed Allen & Heath GS-3200 analog mixer. This desk is top in its class and has continued to perform at high levels for 20 years. We also provide the highest quality digital tools for the modern musician: warm analog into an Antelope Orion 32+ digital interface and tracked into Pro Tools provides you with the best of booth worlds.
Our engineers are also accomplished producers, so if you're looking for a professional opinion regarding song arrangements and production, just ask!
Whether you want to record an album from scratch or just lay down some high-quality vocals on previously-recorded music, Blues Alley can give you that pro sound you're looking for.
Our digital mixing center is centered around Pro Tools, the industry standard audio production suite.  We have a vast array of digital tools and plugins that can meet the need of any recording project.
Record and mix your tracks at our studio, or bring your recorded files with you and have our engineers deliver a professionally mixed end product.
Mastering your audio project is the final touch to deliver a polished product, ready for radio or duplication. We have the tools and experience to give you the final touch that you need.  Our mastering suite includes the acclaimed Izotope Ozone Mastering suite.
Our masters have charted on Billboard, and we can prepare your music to be ready for iTunes, Pandora, Spotify streaming and downloading. We can also prepare your music to be ready for CD duplication either here at Blues Alley or at your favorite duplication company. We are a Disc Makers Studio Partner.
Many new or up-and-coming bands can make some great money selling CDs. CDs are still the driving force to get the music out to your fans. Talk to us about your duplication needs.
Looking to produce a small run of CDs? Blues Alley offers (2) kinds of CD duplication: a full CD case and the "Slimline" case. Our duplication house also offers a full-service graphic design department for all the artistic needs of your projects.
CD – Full Jewel Case
Includes: Full Color Cover & Tray Card, B&W Inside, Full Color CD Printing, Packaging
Call For Pricing
CD – Slimline Case
Includes: Full Color Cover, B&W Inside, Full Color CD Printing, Packaging
Call For Pricing
What good is an amazing recording of an amazing song if no-one hears it?
Once your masterpiece is complete, we can help you share it with the world! Blues Alley has partnered with an award-winning digital marketing expert to offer select clients promotion & marketing services. These services include:
Artist Website development
Music Video production
Social Media setup, development and coaching
List generation
Email automation
Digital Press Kit Production
Radio Promotion
Streaming Services integration
CONTACT US for more details and pricing.
Artists that utilize high-quality video are artists that get gigs. Booking agents, festival committees and venue owners want to see what they are paying for, so show them what you have to offer by producing a professional video to use in your promo kit.
Blues Alley has partnered with a national award-winning video producer to offer select clients HD digital video services. These services include:
Live Event Films
Music Videos
Interview / Promotion Films
In-Studio Documentaries
Acoustic / Stripped-Down Performance Videos
CONTACT US for rates and availability, and to set up a consultation.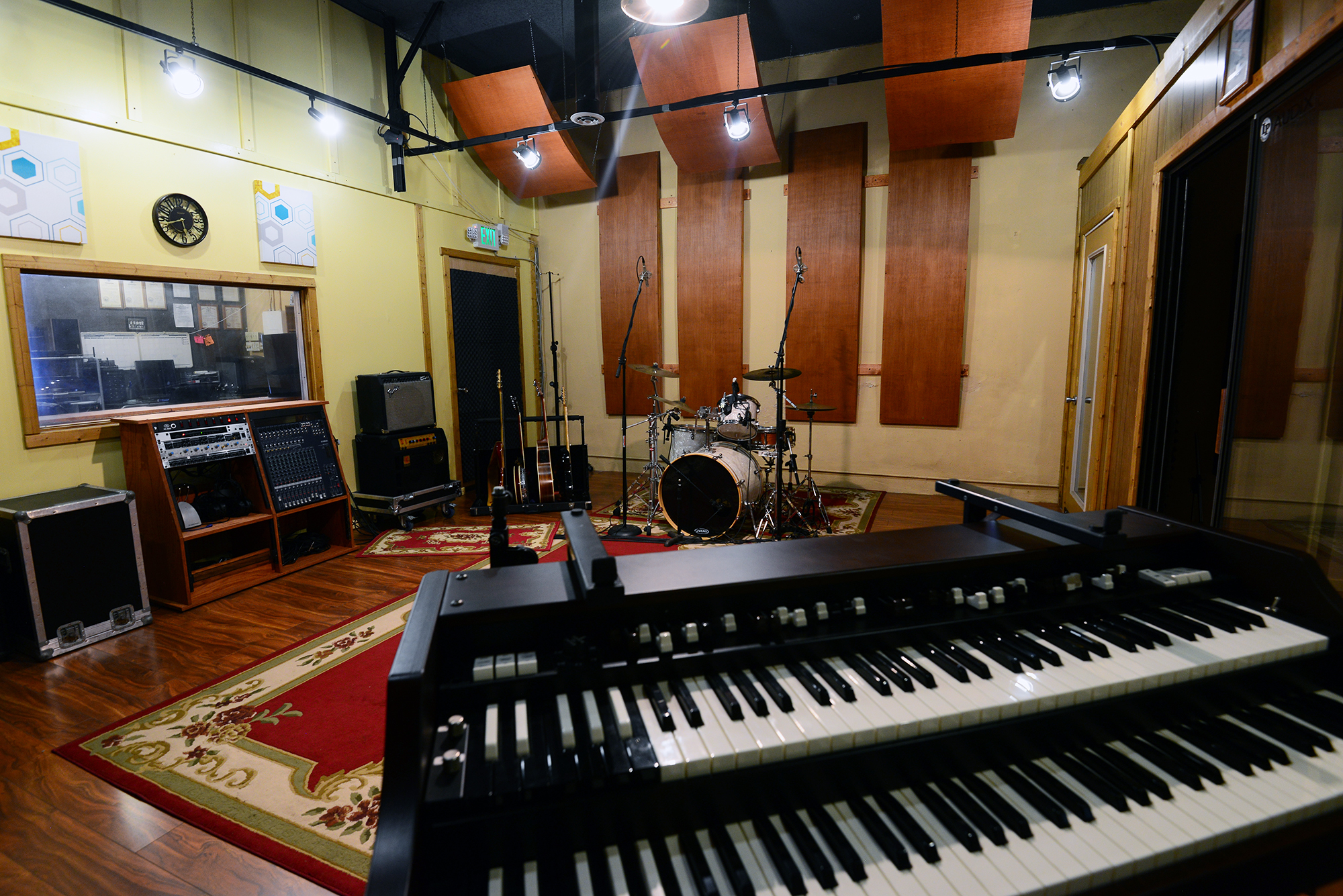 SOFTWARE
Pro Tools 12 Recording Studio with Allen and Heath 32 Channel Analog Mixer and Antelope Orion 32×32 Digital Interface.
Plug-ins:
Solid State Logic – G&E Series EQ, Master Bus Compression
API – EQs and Compression
Antares – Vocal Pitch Correction
Eventide – Ultrachannel
SansAmp – Preamp
Verillion Amp Simulation
Eddie Kramer – Signature Series Audio Suite
Plus many many more
OUTBOARD GEAR
Lexicon – MPX1000
T.C. Electronics D-Two
T.C. Electronics D-One
Focusrite Pre-Amps
ART Pre-Amps
Bellari Pre-Amps
MICROPHONES
AKG 214
Rode NT1
Audix D2, D3, D4, D6 – Drum kits
CAD Equitek E100
APEX Mics
SM-57, SM-58, SM-Beta 58
Shure SM-81
Sennheiser e609
INSTRUMENTS & AMPS
Mesa-Boogie 550 Guitar Combo Amp
Eden 405 Bass Combo
Fender Combo
Gretsch Drum Kit, Sabian Cymbals
plus many more
ROOMS
Studio A is comprise of four main rooms:
Main Recording Room (22 x 16): Perfect for recording drums, vocals, and instruments
Isolation Room 1 (10 x 8): Perfect for recording vocals, and amps
Isolation Room 2 (5 x 8): Amp recording booth
Mixing/Mastering Suite (22 x 16): For playback, mixing and mastering
CLIENTS
A studio's reputation is only as good as the artists it attracts, and we're proud to work with each and every one of our clients. Here's a handful of national, regional, and local artists we've had the pleasure of working with:
West Virginia University
The Walt Disney Company
Inneraction Media
Monongalia County School System
The Sagebursh Round Up Band
The New Relics
Amity
The Argument
Clinton Collins
From The Hip
Kevin Freison
The Joseph Sisters
Jeffrey Wayne
Travis Stimeling Ph.D
Christa Romanosky
Subway
Huey Mac
Marjorie Gardens
WVU Mon Hills Records
Ryan Cain
Blues Alley is a great place to cut everything from songwriter demos to full-length albums. Josh works hard to get the best possible sound out of everyone, and the suggestions he offers often take the work into interesting and unexpected new direction. A hidden gem!
Travis Stimeling, Ph.D
I've spent dozens of hours recording at Blues Alley and I've always had a great experience.  Besides being a highly knowledgable engineer and supportive producer, Josh provides a comfortable environment for the recording process with state-of-the-art technology.
Jim Roderick
Anger Within recorded two full length albums, & one EP, @ Blues Alley Studio… I'm proud to say that with Josh's help, on the song "Life Flow," (taken from our 2003 album "State Of The Union,") we were able to sonically capture Anger Within's heaviest guitar sound/tone, (that stands up, even to this day!) It's a great studio, & hopefully we can make it back there someday, to do some more recording!
Wulf Morris
CONTACT:
Blues Alley Studios
450 Scotts Run Road
Morgantown, WV 26505
304-598-2583
RATES:
Call for More Information
HOURS:
Mon-Fri: 5:30-10pm (By Appointment)
Sat-Sun: 9am-10pm (By Appointment)
Book Your Session / Get More Information